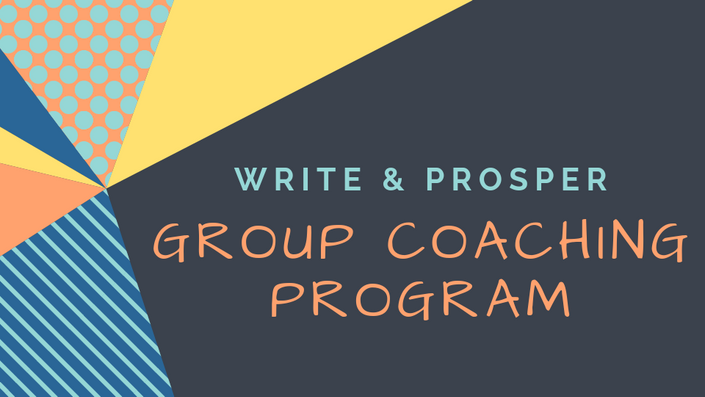 90-Day Group Coaching Program
Mentorship and accountability that you need to get your freelance medical writing business off the ground
Enrollment for the group coaching program is currently closed. The next enrollment period will be in early 2020.
Sign up for the waitlist here.
If you're a freelance medical writer, I'll bet you've felt like this before:
You're sure that being in the medical writing space is for you because you know that this work is meaningful and has great income potential

You don't want 'expert advice' but rather 'I've been there before and here's what works' kind of guidance from down-to-earth people who can objectively see those blind spots in your business

You're eager to be a part of a tight-knit community (and not just one of many thousands in some online group)

You want to connect with other folks who understand your struggles and can offer support, friendliness, and a kick in the pants when you need it

You're dead set on making 2020 more awesome than 2019

and you're finally ready to make an investment in yourself and your business to make it happen
YOU WANT TO TAKE THE NEXT STEPS AND YOU'RE READY TO TAKE ACTION

BUT YOU JUST NEED SOME STRUCTURED GUIDANCE
In this group coaching program, we'll help you build custom action plans so that you can reach your freelance writing business goals faster than you ever thought possible.
HOW MANY TIMES HAVE YOU CAUGHT YOURSELF SAYING THINGS LIKE:
"I'm overwhelmed by the amount of advice out there. If I had a specific and targeted action plan for my business, I'd make steady progress."

"I need some instant clarity. I'm ready to roll up my sleeves and do the work so that I can reach my goals faster."

"I'm making a fresh start with my freelance writing career, and I just don't know where to begin."
"I'm hesitant to work with a marketing 'expert'. I want to work with someone who has experience but is also down to earth and approachable."

"I need to get off of the marketing treadmill

. There has to be another way to find steady, ongoing clients and projects."
It is possible to build a thriving freelance medical writing business, WITHOUT spending all of your time marketing and WITHOUT settling for low-paying gigs. WE'LL SHOW YOU HOW.
Here's the formula that makes this coaching program so effective:
clear goals
+
practical coaching
+
community
+
accountability
=
rocket fuel for your business
This course is not open for enrollment.
Here's what you get:
6 modules delivered live via Zoom (once every two weeks)

3 live Q&A Zoom sessions


Assignments to build your momentum (hand them in for a chance to win prizes!)

Individual email support as needed
Outline of the Proposed Modules:
1. Samples
How to quickly create writing samples that showcase your abilities.

Best practices for using samples.

Homework assignment: draft two short samples based on materials we recommend.
2. Direct outreach/follow-up
Busting through direct outreach mindset hangups (critical for more than just getting your first assignment).

How to create a pipeline of direct outreach prospects and the various ways to follow up.

Homework assignment: send us screenshots of 15 direct outreach emails and 10 follow-up emails you sent.
3. Negotiation
The basics of negotiation prep.

Common negotiation scenarios.

Homework assignment: role-play an email negotiation with us.
4. Best practices with new clients
Understanding a client's samples and templetizing.

Interviewing clients and asking questions

Requesting feedback on assignments when the client goes AWOL.

Homework assignment: templetize a sample we'll give you and role-play with one of us as a hypothetical new client.
5. Your marketing materials (website, blog, social media)
The essential elements of a good medical writer's website.

How to set up a blogging program for yourself and leverage it for social media.

Homework assignment: revamp your website and decide whether you're going to blog (and if so, what you're going to blog about).
6. A system of self-accountability
Evaluating the last three months with a number of self-assessment tools.

Homework assignment: Use the self-assessment tools to see if you're on the right track or if you need to tweak your process and send us a short form with conclusions from this evaluation.
---
Frequently Asked Questions:

Q: When does the next 90-day coaching session kick off?

A: We'll start the next session in early 2020. Sign-ups will likely be in January or early February.

Q: Is there a limit to the number of spots in the program?


A: No, there is currently not a limit on the number of participants. However, we are continually evaluating the number of available slots to ensure that everyone in the programs gets the experience that they signed up for.

Q: What time will the group coaching sessions be held?

A: We'll poll members to find the most ideal time for everyone. However, we'll likely have participants from all over the map, so finding a good time will require some flexibility. If you do miss a session, the recordings will be available.

Q: Is there email support for participants?

A: Yes! We recognize that sometime you just need on-the-spot advice. We strive to be a valuable resource (and sound board) for participants when there are any bumps in the road.


Q: What if the program is not a good fit for me?

A: We'll offer a money-back guarantee for the first 30 days.
---
There's nothing that we love more than receiving emails like this from our coaching clients:
"Our discussion and your input related to my "hot seat" issue (project estimates) in our coaching call yesterday were hugely helpful and relevant for me! I feel as though I "got my money's worth" for the whole coaching program in that one call alone!"
- Wendy Mills, MPH

"Thank you to both of you for your advice! The call went quite well I think. [The client] said he would send over an agreement and some work when it comes in."
- Joshua Hwang, MD
STILL UNDECIDED AND WONDERING IF GROUP COACHING IS FOR YOU?

We get it. This kind of coaching is an investment.

But...it's an investment in yourself that is designed to help you get unstuck and make some real progress in your business.

For many of you, this might be the first time that you've ever thought about paying for group coaching (or any coaching for that matter). It's perfectly natural to feel a little uncertain.

But doing this freelance thing on your own can be kind of scary and overwhelming when you try to do it alone. Trust us, we've been there. We've made the mistakes and learned our lessons. We've been in the trenches and fought our way out.

And now we're on a mission to help you fast track through those bumps in the road that held us back.

So if you've read our blog, talked to us directly, or taken our course, we're hoping that our message resonates with you.
If you're on the fence and the timing is just not right, we understand.

But, if your gut is saying to you right now, "This sounds like just what I need," then join us.

IF YOU FIND THAT YOU'RE CONSTANTLY SPINNING YOUR WHEELS AND YOUR BUSINESS JUST ISN'T MOVING IN THE DIRECTION THAT YOU WANT IT TO GO, THEN NOW IS THE TIME TO MAKE A SMART INVESTMENT IN YOURSELF.
The next enrollment period will begin in early 2020.
This course is not open for enrollment.